The Text (Gen 12:1–7)
Now the Lord said to Abram, "Go from your country and your kindred and your father's house to the land that I will show you. 2 And I will make of you a great nation, and I will bless you and make your name great, so that you will be a blessing. 3 I will bless those who bless you, and him who dishonors you I will curse, and in you all the families of the earth shall be blessed."
4 So Abram went, as the Lord had told him, and Lot went with him. Abram was seventy-five years old when he departed from Haran. 5 And Abram took Sarai his wife, and Lot his brother's son, and all their possessions that they had gathered, and the people that they had acquired in Haran, and they set out to go to the land of Canaan. When they came to the land of Canaan, 6 Abram passed through the land to the place at Shechem, to the oak of Moreh. At that time the Canaanites were in the land. 7 Then the Lord appeared to Abram and said, "To your offspring I will give this land." So he built there an altar to the Lord, who had appeared to him.
An Insight
This week's passage tells us of the famous call of Abram (later Abraham) to journey from his home to new territory that will one day belong to his descendants. The New Testament will reflect quite a bit on this call and the promises that go along with it,[1] promises that God would go on to make more than once to Abram. It is truly a fantastic call with fantastic blessings. Abram is called to uproot his home, journey to a place that is already occupied by other nations, and trust that one day it will belong to his descendants . . . of whom he currently has none. Abram is told these supposed descendants will become a mighty nation and bless all families of the earth. Abram's current circumstances do not at all line up with these promises, and yet he responds to the call and makes the journey to what would become Israel's homeland.
A Timeless Principle
God calls us to deep, even radical, faith in him, and he makes great promises for those who trust him. We are called to deny ourselves and promised we will find true life as we do so. We are called to seek his kingdom above everything else and promised that our every need will be met. We are called to love those who wrong us and promised that God will take care of dealing out justice to them. The list keeps going. All of these calls and promises are subsumed under our call to imitate Christ and the promise of resurrection and eternal life. As with Abram, our current circumstances in this life often look very different than the promises of God.
Living the Text
The day and week ahead of us may contain many moments in which our circumstances do not seem to line up with God's promises. Those moments can often be confusing, frustrating, and the source of anxiety. Abram models for us, however, how they can also be opportunities to take steps in faith along the journey of our relationship with God. His promises to us are as sure to come to pass as his promises to Abram. Let's trust him today to fulfill his promises as he has fulfilled them in the past. He will not let us down.
Prayer
Heavenly Father,
We trust you to fulfill the promises you have made to us just as you fulfilled your promises to Abraham. Help us today to walk in the path you have prepared for us. May any moments of fear or uncertainty not overwhelm us but teach us to hold to your faithful and loving hand. We long for the fulfillment of your greatest promise and for eternal life with you.
In Jesus' name,
Amen.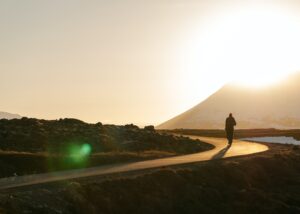 [1] See Galatians 3:5–9, 15–15–18 Romans 4:1–25; Hebrews 11:8–12